Sandstone Floor Restoration, Cleaning & Sealing in Macclesfield, Cheshire
Published on Saturday 26 December 2020
Introduction into sandstone restoration project in Macclesfield, Cheshire
How much would you like your flooring look like the day it was installed? All the ugliness removed and only the beauty left behind for you to admire? If this sounds like you - the blog below will help you understand the processes involved to have that sandstone floor look like new again and stay like that for longer.
We were asked to restore a variety of floors in this beautiful property in Siddington which is located near Macclesfield, Cheshire. This part of the project has been an interesting one due to its nature - sandstone steps and stairs in a very awkward position and shape. Therefore the works could only be carried out by hand.
Sandstone steps have never been professionally cleaned or sealed and were subjected to 17 years of general traffic and soil ingrained into the surface.
Clients wanted to see if the surface could be improved to make it look any better. We were able to provide a demonstration/test. This demonstration on the surface in question answers two very important questions:
it helps clients see the expected result from the service requested
this also helps us understand what is happening with the surface and what is needed to get it brought back to its former beauty.
Every surface in any household is different and subjected to its own unique wear and tear and exposure to different cleaning routines, foot traffic, chemicals used around the house, stains, contamination, old sealers, builders dirt, pets, etc. When you combine all such completely random and unique circumstances to every possible surface - you get a unique restoration job.
We call most of our projects as the restoration of the surface primarily because it is way past the 'cleaning' stage which could be carried out with a mop and bucket. If you cannot clean it with mop and bucket - we wouldn't succeed either. Therefore it is not a cleaning job anymore.
We employ specific techniques, equipment, commercial and industrial grade cleaning and restoration chemicals to get your flooring restored. Demonstration during the initial inspection visit helps us to determine what will be needed to make clients request make a reality. This also will eliminate the need for us to keep guessing what we need to do on the day the project starts and we can show you what we can achieve and you can book the service with confidence. There is nothing worse than getting a service company booked in without inspection and get told on the day that they cannot do it!!
For this reason alone we will always book a no-obligation inspection visit at the time that suits you where we can also answer any questions that you may have.
Sandstone floor restoration process in Macclesfield, Cheshire
Every project starts with the correct preparation. Sensitive surfaces in your property and around the work area will always be protected by taping up with plastic and fabric sheets so that we minimise or eliminate any possible damage to the surfaces adjacent to the sandstone like skirting boards, walls and other floors like wood or tiles. We will always protect the other floors we are taking the equipment through so your experience with our service is not spoilt.
Your valued floor will be stripped, deep cleaned using correct cleaning solutions to achieve the best results possible. The type of professional solutions used to restore your sandstone or york stone floor will depend on the type of contamination needed to remove, type of old sealers and floor dressings that are present on the surface. This particular project required to remove deep soiling contamination, some oil and wax stains. The whole process has been carried out by hand and small tools to get into all the corners and vertical sides of the surface.
Any cleaners used to restore your sandstone floor will have to be removed by extraction and very thorough rinsing of the surface. Missing of the thorough rinsing process would cause your floor to attract soil very quickly and more importantly will not allow impregnating sealer to bond with the floor properly. That can cause various issues like sealer failing prematurely, sealer not bonding and turning white on the surface requiring the floor to be stripped back again. Basically repeating the whole process. The same issues may occur if the floor is not fully dry before the sealer is applied.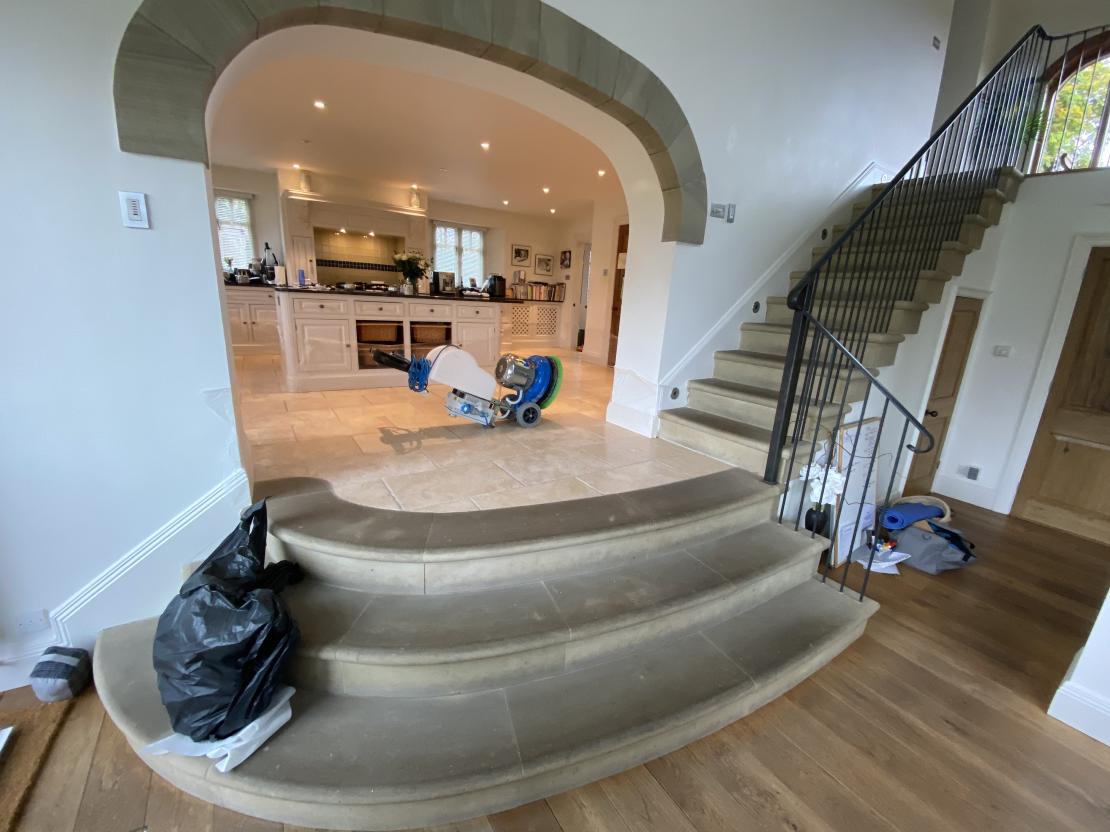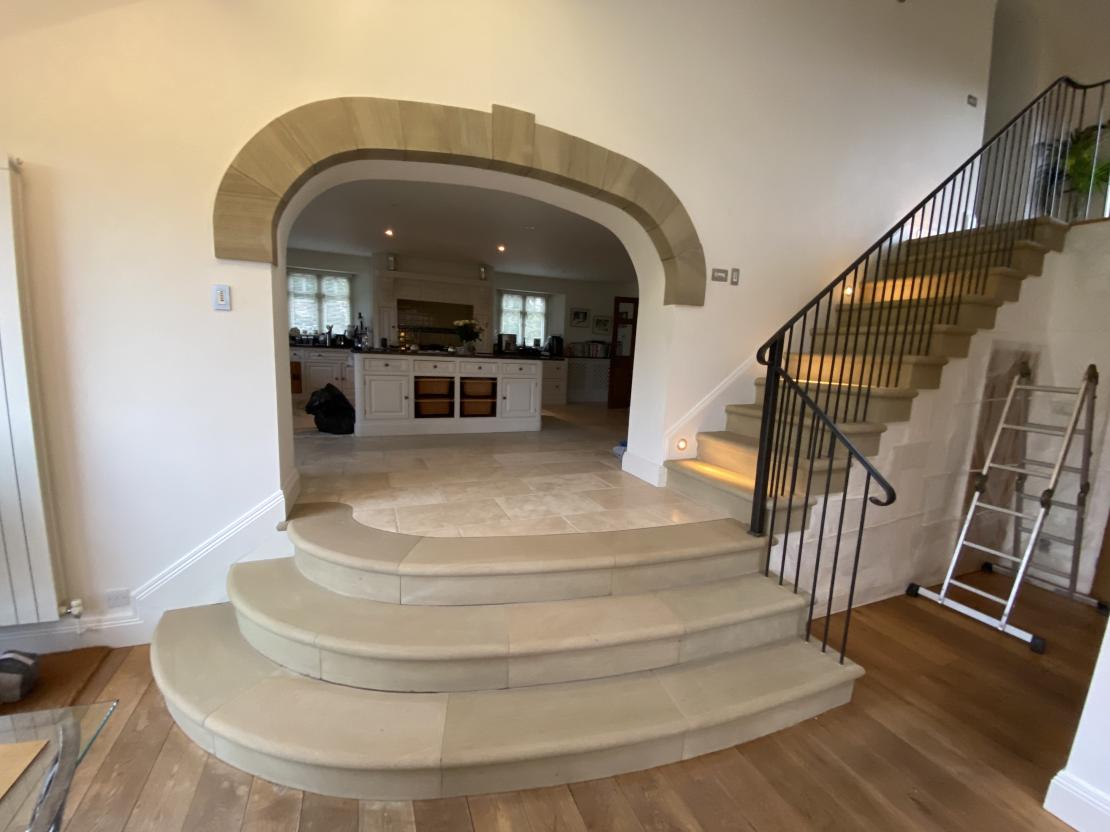 Sealing process of your sandstone floor
Once the floor is thoroughly rinsed and dried, usually next day or even longer we will test the moisture content in the floor using an electronic moisture meter to determine the moisture has gone down to its original state. This is a crucial step in any floor restoration process and is massively overlooked and even ignored in the trade. This makes us very sad because any floor sealed without drying it out properly will not last long and protection will be nowhere close to where it should be. This means your floor will start staining soon and the whole process and funds spent to get it restored and sealed will be wasted for nothing. We will do a separate post on this subject to help you understand the importance of this essential step in the whole process. You will be able to open the article about the subject right here when it is ready.
You can rest assured that your floor will be restored following correct practices and guidelines. Your complete satisfaction, final result and our reputation are extremely important to us and we will not compromise to achieve only the best finish and longevity for your floor.
We worked really hard to find only the best sealing solutions for you. Therefore we only use one brand sealer that is known worldwide as possibly the best sealer. It comes with a high price, but it provides amazing protection for your valued floor. It is a 'permanent' sealing product that will last for approximately 15 years or even more depending on usage of the floor and maintenance regime followed by the client.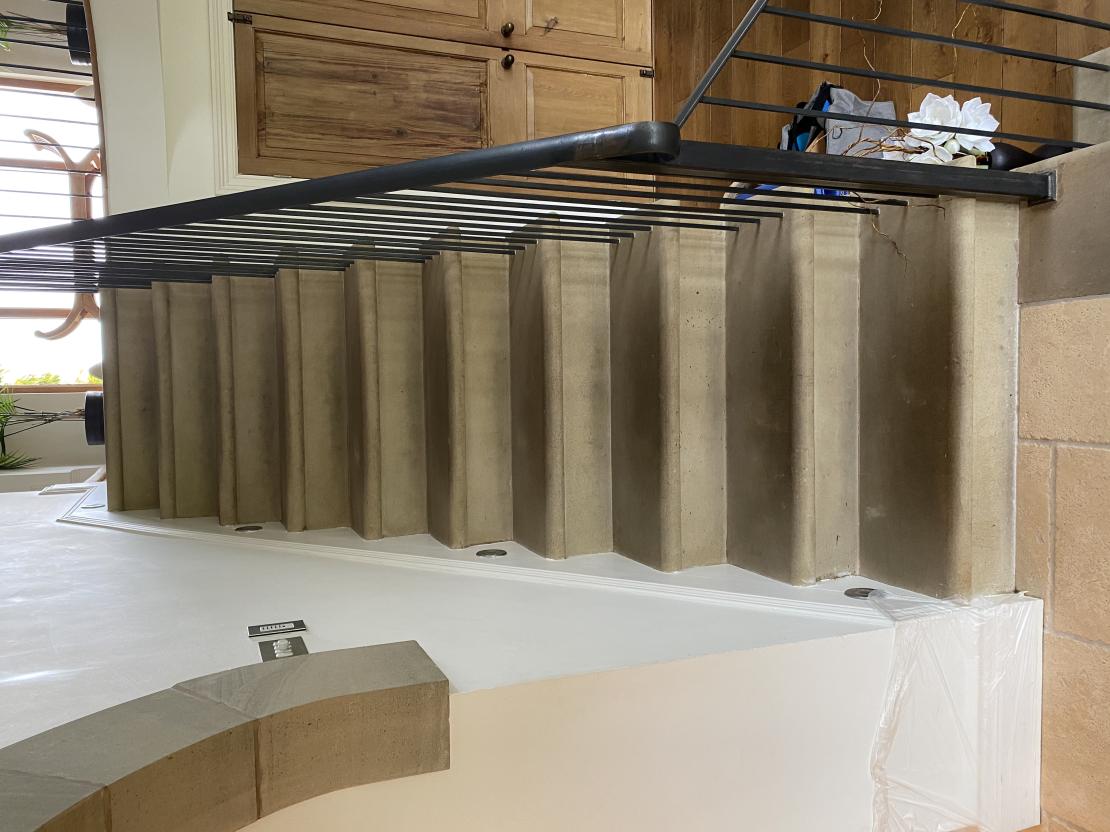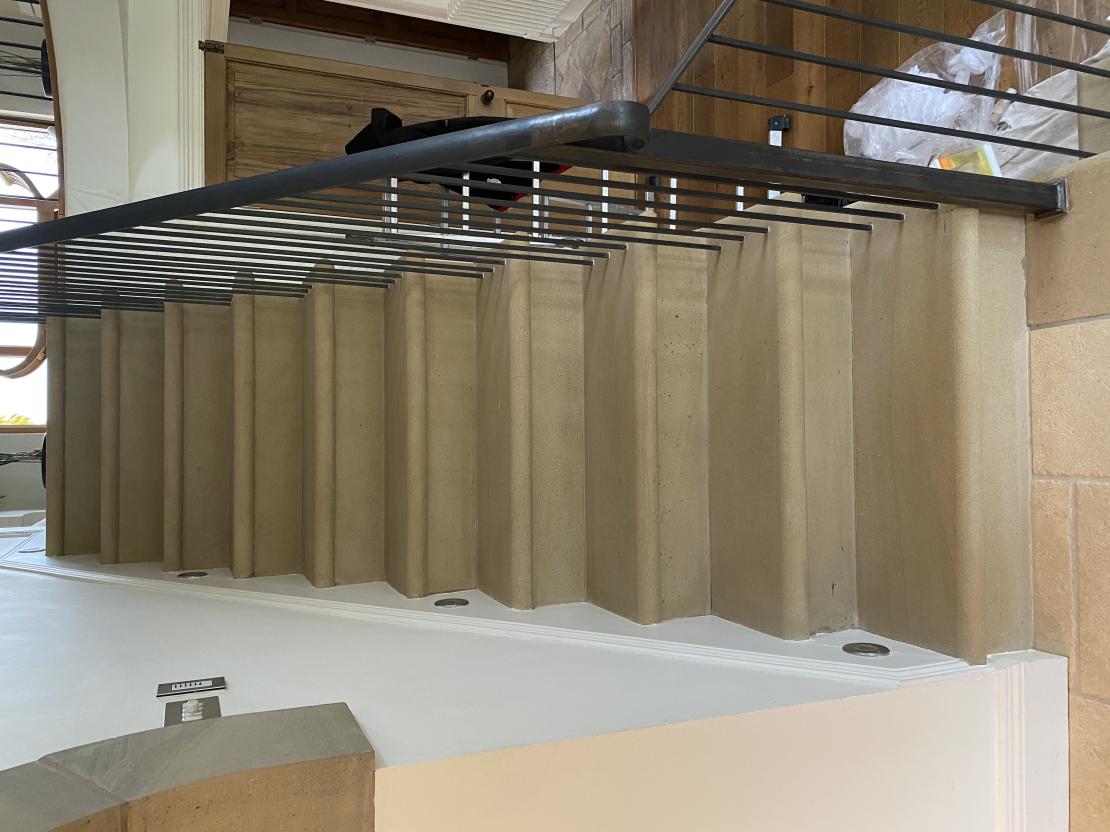 Maintenance regime to keep your sandstone floor looking beautiful for longer
No surface can stay clean without correct maintenance by you or your in house cleaning staff. We will always provide you with correct cleaning solutions, correct and effective mopping system most suitable to your floor type and texture. This is so you don't have to guess what you need to use not to damage your floor once it is professionally restored. You can always get further supplies from us once run out. Professional maintenance solutions we will provide your with are specific to your floor typer and material and will not cause damage or chemical build up in layers. Cleaning residue build-up is a very common problem we come across with most floors.
Are you are wondering what cleaning residue and associated problems are? Well, that's the shiny and dirty layer on the top of your floor that you can never shift no matter how hard you try although you remember your floor being as honed/matt finish in the past. This means that the cleaning products used were incorrect, too strong and caused residues staying behind after cleaning and forming a very thin and sticky layer/film on the surface of any floor. That sticky layer on your floor will act as a magnet attracting dirt every time you walk on it. Next clean will cause a further thin layer of residue building on top of the previous one. This can go on forever making your floor look nothing like the floor you once admired!
Do not underestimate a high quality and correct mopping system. One microfibre mop is not equal to the next one. We did the legwork for you and can provide a correct system as soon as the project with your floor restoration is completed.
Everything works in harmony to keep your sandstone floor, steps and stairs looking great for longer. Take away one and the maintenance system renders ineffective.
There are not many mops that are good and you can get in any supermarket. What we also found is that none of the cleaning products sold in the supermarkets is suitable to use on premium grade floorings like wood, stone, tile or LVT floors. most will cause build up on the surface or are not gentle enough or simply unsuitable for such surfaces.
However, there is only so much you can do with a mop and bucket especially on textured surfaces like sandstone or york stone floors.
The professional maintenance regime is recommended a lot sooner than you might think if you want to keep your investment in premium grade flooring serving you a long time and avoid premature replacement. We recommend light maintenance clean of your sandstone floor once every year to simply keep on top of things and remove any build-up of soil that you may not be aware of. As a homeowner, you simply get used to changing look of your floor ever so slightly as the time goes by.
This is perfectly normal and only gets noticed when the floor reaches another level or 'dirty'. That level is usually 2-3 year or more and is when the floor will need a little deeper clean that could have been avoided. Prevention is always better and more effective than the correction of problems that only get bigger as time passes.
Even though the sealer will protect your floor from water and oil-based stains, soiling and incorrect cleaning regime can still make your floor look soiled and not as pretty as it was. Maintenance visits are much quicker than the full restoration process. The best looking floors always are in the homes of clients who look after their flooring as per our guidelines.
Do not forget to have your floor professionally cleaned after installation to remove any builders dirt and residues and have it sealed to give it the best chance you can.
What's next?
Have a look at the google reviews below our clients leave about their experience with us.
Please get in touch with us here if you have any further questions or you would like some advice. We would be glad to help you with your flooring restoration, cleaning or maintenance project.
Please follow the link to learn more about other surfaces we restore. If you would like any urgent advice please give our office a call on 01477 459109