Professional Carpet Cleaning in Wilmslow, Cheshire
Published on Tuesday 7 May 2019
Just completed professionally cleaning this large wool carpet area in the main lounge and bar area at the Wilmslow Golf Club in Mobberley, Cheshire.
It may look like a perfect place to work, but it was hard work to make this wool carpet look stunning. It was completed by lunchtime and ready to be used for trading in the early evening. Most areas were already dry to walk on by the time we left. This is the power of our truck-mounted carpet cleaning system, safe cleaning solutions, fans and system in place to make this happen.
Why choose us:
We come to you at the time that suits you and provide professional carpet cleaning service in Wilmslow at a convenient time to you
Inspection carried out before providing a quote. This is to make sure you know what you are buying and we know if we can clean and restore the area to meet or exceed your expectations.
The advice is given so you can correctly maintain your quality carpet.
Your property and items are insured for the sum of £5 million. It also includes treatment risk cover for items being cleaned for your peace of mind - not many companies have this in place.
Personal service to really understand your concerns and requirements. No business environment is the same, every business is unique in their own way.
100% Money Back Guarantee - that's right! If you are not happy with our service, we will come back and re-clean the area free of charge. If you are still not happy - we will refund your payment.
Hygienic service - super-heated water injected into your carpet will kill most known bacteria. It will rinse out contaminants so you can have your business surrounded by a clean and healthy environment.
Process
Our professional carpet cleaning process at this, one the most spectacular golf clubs in Cheshire involved:
Safe set up of our professional carpet cleaning equipment near the building with health and safety of members and visitors in mind;
Cones, tape, and of course hose ramps were present to make sure any passers-by were safe;
Deep vacuuming to remove most of the dry soil before any moisture is introduced; this step is getting overlooked very often and is
Pre-spraying a section of carpet with a correct, eco-friendly, biodegradable and non-resoiling cleaning solution;
Agitating solution deep in the pile with manual and mechanical action;
Rinsing out and sanitising carpet at the same time with really hot water that is consistently produced at 90-95 degree Celcius
Difficult stains that did not come out during deep clean will be treated using specialist stain removers and techniques.
Raking of carpet to re-set the pile to one direction to aid drying and the looks.
High powered fans are left in the areas to minimise drying time of your quality carpet allowing you to return to your business as soon as possible.
What's next?
We have already restored The Wilmslow Golf Club's changing rooms tiles and grout on the previous visit. Now they are ready for another 12 months of trading in a clean, hygienic and healthy environment. Our carpet cleaning clients in Wilmslow, Cheshire always receive quality service with the right attitude.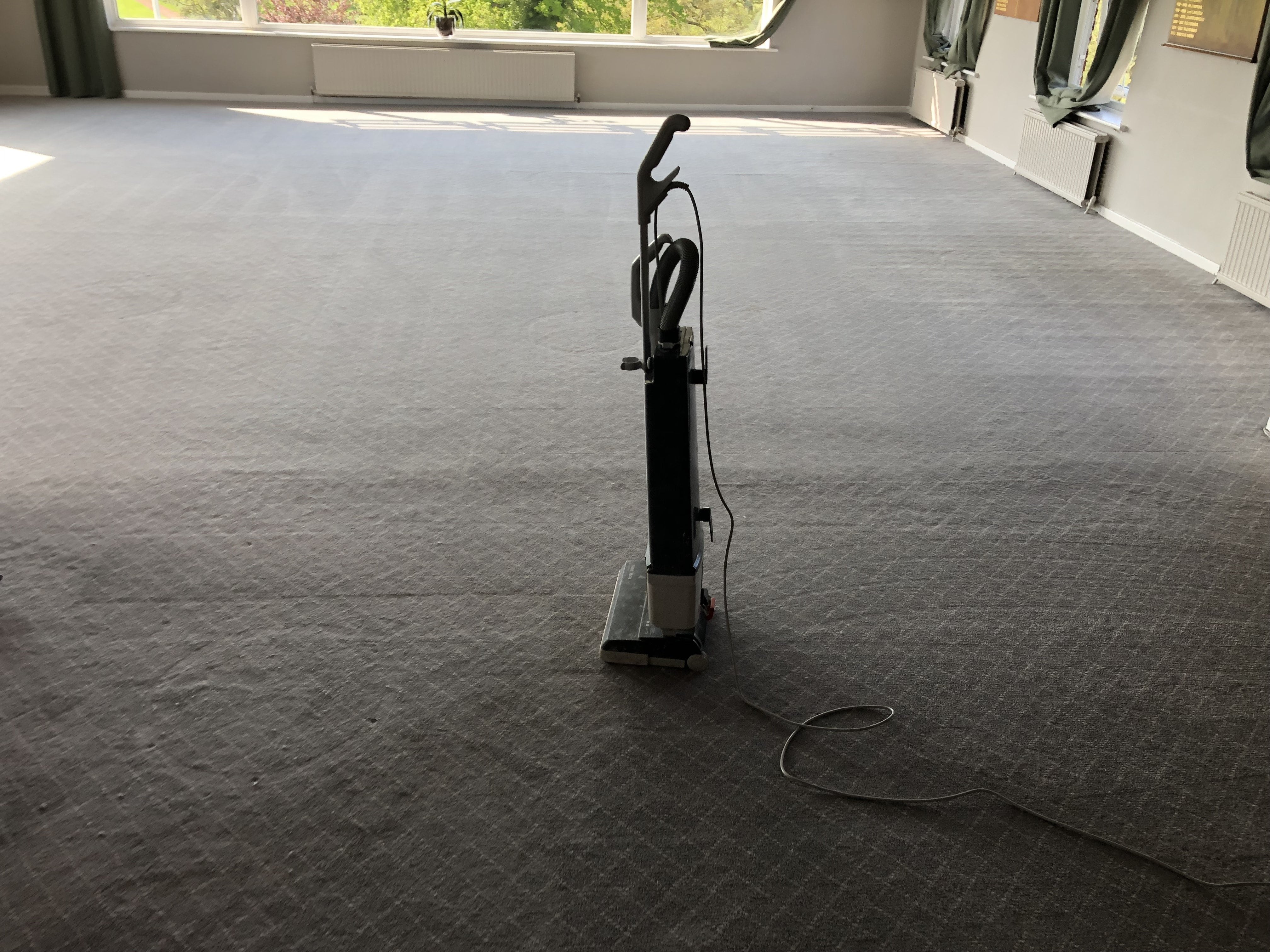 Do you think we could improve the golf club you are playing at with our professional carpet cleaning service? Simply give them our number 01477 459 109. For more information visit our webpage commercial carpet cleaning in Wilmslow, Cheshire.
Professional carpet cleaning is near the completion in Wilmslow, Cheshire. Carpet is being dried by some powerful fans and driers.