Professional Rug Cleaning In Wilmslow, Cheshire
Published on Friday 10 May 2019
When it comes to cleaning rugs - a totally different approach needs to be taken to clean them professionally and thoroughly. First of all, let's be clear - rug is not a carpet, and as such, it cannot be cleaned like carpet. It also cannot be cleaned on clients premises. There are many ways to get from point A to point B. But in the case of professional rug cleaning, there is only one way to get them cleaned and restored right with least risk to your investment in a quality rug. This is a reason a professional rug cleaning company needs to be considered to avoid disappointment.
This blog explains the few intricacies in the rug cleaning process and helps the consumer to understand what they actually have and how it should be done properly. We will take an example of this Chinese wool rug (100% wool on cotton base) professionally cleaned for a client in Wilmslow, Cheshire.
Some facts about rugs
Most oriental hand-knotted rugs are up to 20 times denser than highest quality wool carpet.
Good quality rugs are mostly made of wool (there are many other materials used to make rugs, but not as popular or sustainable)
Most oriental hand-knotted rugs are made in the Middle East, Asia and some from North Africa - Persian, Afghan, Chinese, Indian, Pakistan, Turkish, Moroccan, Egyptian, Tunisian)
Colours are not necessarily stable in all rugs
Dry soil gets compacted and cemented in the knots through normal use of it
Most older rugs are probably never cleaned professionally, that's around 1o-40 years worth of soil compacted at the base of the rug. On-site rug cleaning clean does not count as it causes more issues with rugs and even faster re-soiling.
Not all dry soil can be removed in a single clean of a dirty rug.
Cost to clean rugs in Wilmslow and surrounding areas mostly depend on the size of the rug and work needed to be carried out and sometimes on value of the rug. The cost can range from £100 for a small rug to £1,000 or even more for a heavily soiled, damaged rug that require repairs or similar.
Process
This Chinese rug has been initially inspected at our clients home in Wilmslow, Cheshire. Stains that may remain pointed out and explained. Some yellow or red stains are near impossible to remove in wool rugs due to several factors like the type of stain, age of the stain, dyes shifting and reacting on wool. Rug owners attempt to try and remove the stain from their oriental rug makes a huge impact on the success of professional removal. If an attempt is unsuccessful (and it is most likely to be one) - the chances to professionally remove stain from the rug then drops significantly. Therefore DIY stain removal from your expensive rug is not recommended. Wool is a natural product and will react to dyes and attempts to clean - showing patchiness and surface damage.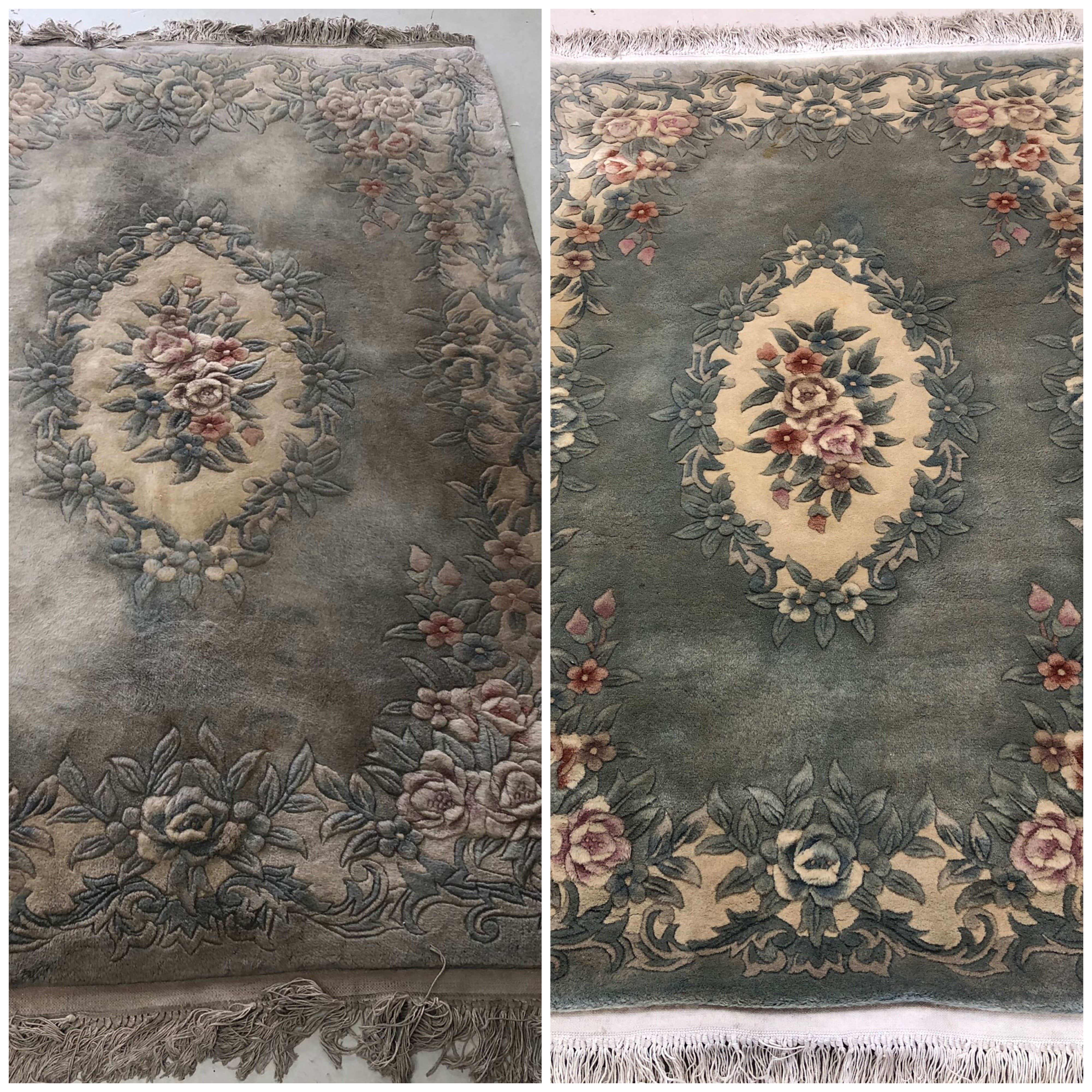 Care needs to be taken by the rug owner not to make such mistakes and to avoid damage in the first place. Good quality, expensive oriental or any other hand knotted rugs should have a good pace in your home that is not in the most trafficked areas. This is to avoid unnecessary wear and damage to the rug or fringes etc. Although we can also repair and restore fringes in your value rug should you require?
Rug collection
At that point, the client has agreed to cost and the rug was taken back to be fully inspected and prepared for the cleaning process. Transportation of all rugs we collect and deliver in Wilmslow or any other areas is fully insured up to the value of the rug. Our standard cover is for up to £10,000 rug value in total. This is adjusted and increased with our insurance company every time we do have to collect very expensive hand-knotted rugs or designer rugs that cost £20,000- or more. We take care of your investment in quality rugs and want you to feel safe using us. For that reason, we may need to know the value of your rug if we suspect it to be over the value of 10,000. All this is for your and our peace of mind.
Rug dye testing
Rug fibres are then tested with the solution that would be used to clean it and see if dyes are stable within the rug. If all good - then professional rug cleaning process continues. If dyes or just a single colour are not stable then dye stabilising solution would be applied to the rug to prevent dye migration. Note - there is no guarantee that dyes will not migrate even a little. This is always a risk and rug owner should understand that this might happen. But if rug needs professional deep clean, then there is no way out just to proceed. But the decision to move forward with the professional rug cleaning is always in the hands of the owner.
However - some rugs cannot be wet cleaned at all due to their extremely unstable colours. This would then be advised and the rug will be taken back to the owner free of charge.
Rug dry soil removal (3 steps)
The rug is then vacuumed to remove surface soil. Once that is completed - rug is turned over on a special grid and special rug beating machine is used to beat and tap the back of the rug at tens of thousands of gentle beats per minute allowing the dry soil to fall out through the fibres of the rug and the grid onto the floor. This grit, sand and dust can just be swept away. The next step is to use air dusting procedure to force air through the fibres using specialist equipment to release further amounts on fine dust from the rug. This would finalise the dry soil removal process.
Rug de-contamination bath
If the rug is damaged with urine, bug infestation or any other extreme contaminants then rug de-contamination bath is required to rinse out and remove. Specialist solutions are used in the bath/tank to clean, disinfect and sort out the issues. Some rugs need to stay in the bath for several hours until decontamination is complete. This Chinese rug from our client in Wilmslow did not require decontamination bath.
Rug Rinse
The rug is then taken to a 'rug pit' where it will be rinsed with water to remove any contamination and residues left by owner or by decontamination bath. The process continues with rug cleaning chemical applied and agitated into the rug to get down to the base of the fibres. The rug is cleaned on both sides - front and back. The rinsing or flushing then removes all the soil and chemicals from the rug. The process repeated until no soil was coming out.
Rug centrifuge drying
The rug is taken into the centrifuge so it can be spun for 3-4 minutes to get 95% of water and moisture out quick. This ensures that the drying of your rug is sped up 10 times compared to any other method used by other cleaning companies. This completely eliminates the chance of colour run, mould growth, browning and any other issue associated with the rug taking days or weeks to fully dry.
Drying room
The rug is now taken to the drying room where temperature and moisture levels are controlled. This will complete the drying process and remove that last bit of moisture remaining in the rug after centrifuge spin.
Rug fringe works and finishing
Should fringes require additional clean it will be done at this point. Finishing touches like grooming of rug with a soft brush is carried out to reset the pile.
Rug delivery
The rug is now ready to be delivered. We will unwrap and unroll it for you in the desired place. Final grooming is done with a brush to make sure the fibres and fringes are tangle free.
Now the rug can be enjoyed once again. We recommend having your quality rugs cleaned every 2-3 years as a minimum. To the contrary of what some people think - it's not the cleaning that shortens the life of the rug - but the dry soil grinding those delicate fibres away. However, this is true if the rug is cleaned by an inexperienced person or cleaned on site.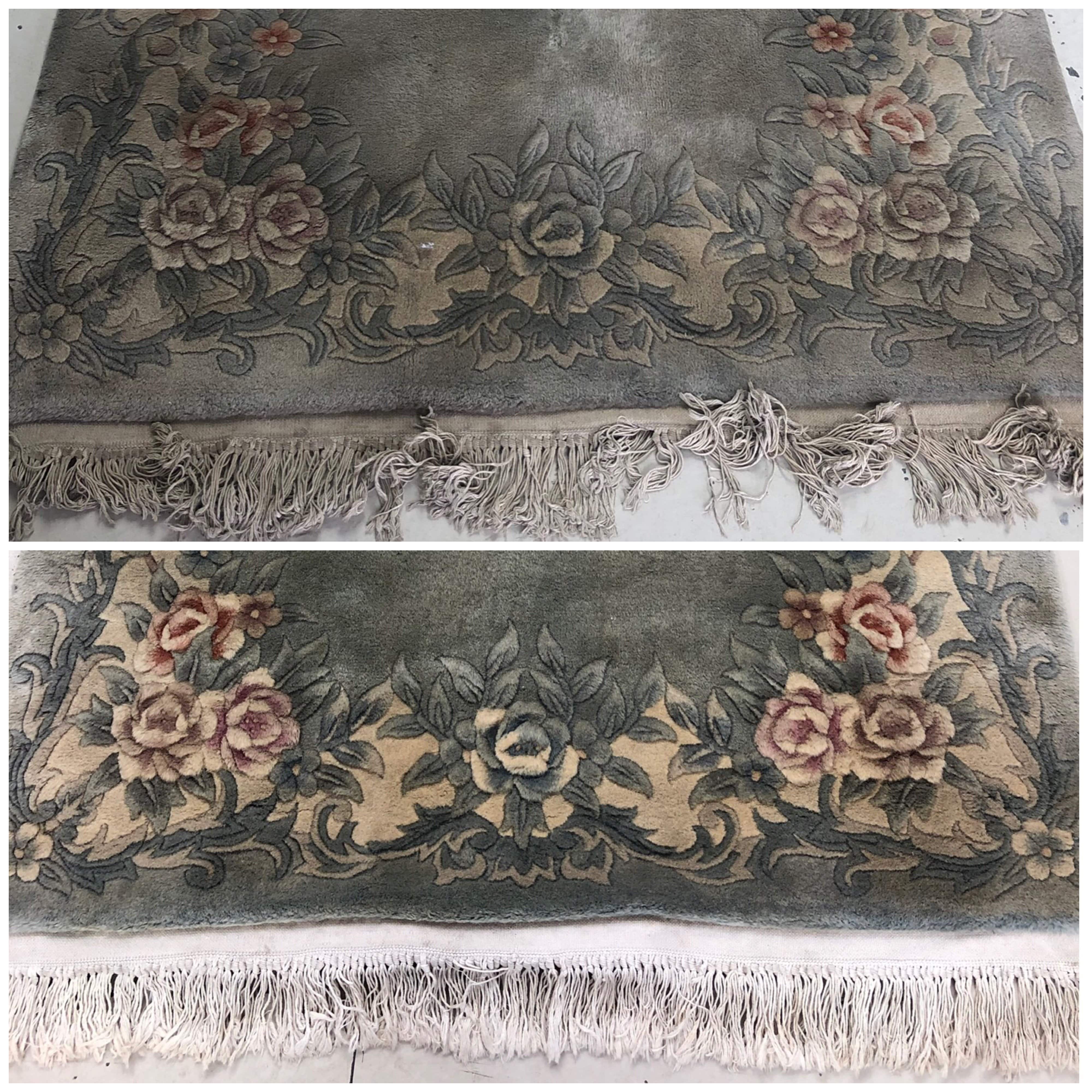 Please be aware of some carpet cleaners suggesting that they can clean your rug just as good on site for less. This is not true and such attempts 99% of the time end up being a very unpleasant experience and likely rug damage. The rug may look good while still damp, but once it dries - it pulls all the dirt and contaminant from the base up to the surface, staining the rug badly. This is purely due to not being able to do any of the steps in the professional rug cleaning process described above. So if unsure or you would require advice on how your rug should be cleaned - please give us a call and we can advise you how to proceed.
For professional rug cleaning in Wilmslow or surrounding areas please call our office on 01477 459 109. You can also use our contact page or visit our dedicated professional rug cleaning and repair page here.