Professional Yorkstone Floor Restoration in Altrincham, Cheshire
Published on Monday 6 May 2019
Professional original yorkstone / sandstone floor restoration completed for a client in Altrincham, Cheshire. Around 200-year-old original yorkstone floor also had all the pointing removed and replaced by our skilled specialist.
We are restoring these floors quite often lately and usually, the results achieved can be very good. Some floors can be badly stained over the past few hundred years. Due to soil build-up, such stains are invisible and only appear when soil is fully removed by our specialist stone restoration process. Some yorkstone floors have incorrect sealers applied that sometimes make restoration near impossible.
Process
Yorkstone floor restoration process involves a lot of manual scraping, chemical stripping of old finishes, deep cleaning of soils. Then we proceed with rinsing out of all residues with clean water. Next step is drying your quality stone floor thoroughly using fans. Original sandstone / yorkstone floors do not have damp proof membrane fitted underneath so drying times vary and can take up to few days to dry out before sealing can begin. For sealing of yorkstone floor we only use professional grade impregnating sealer with approx 15 year longevity. This doesn't mean that floor will stay clean for 15 years rather the sealer will not fail and will protect your floor. Regular maintenance cleans are still required to keep your floor in the best shape possible. Our sealers will permanently bond within the stone surface creating a superior protection. This will not change the look or feel of the stone floor.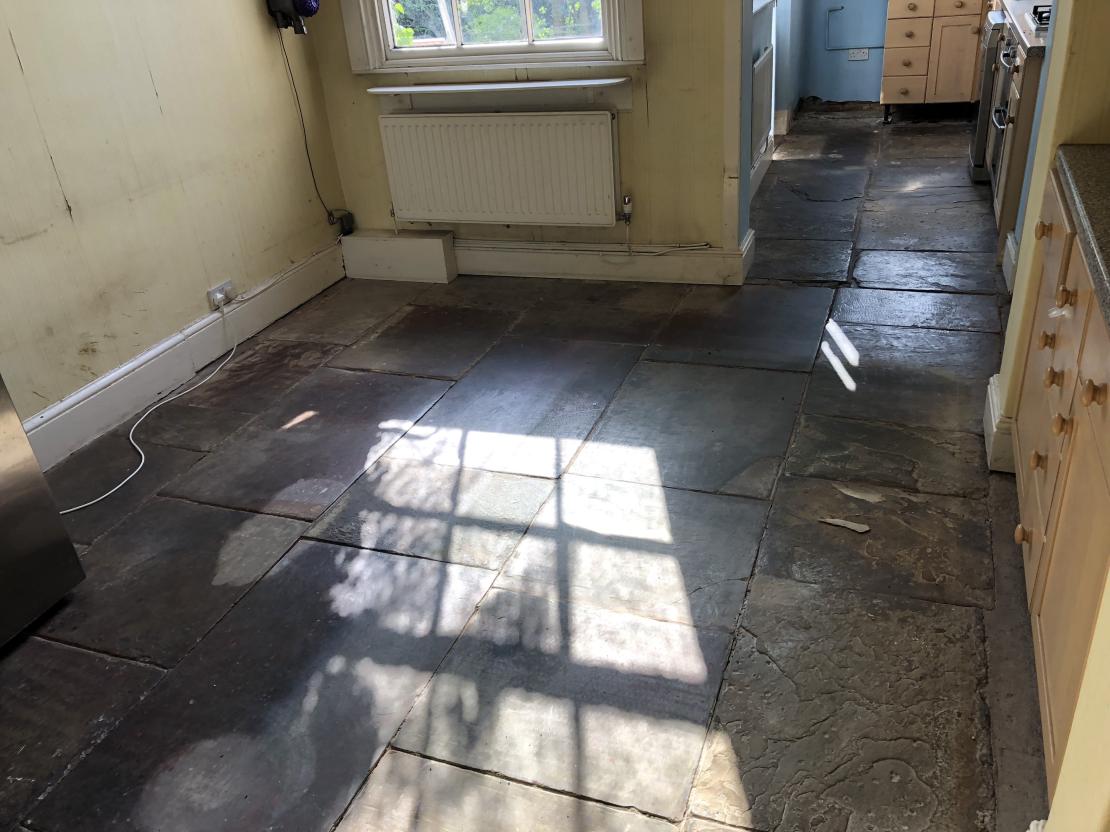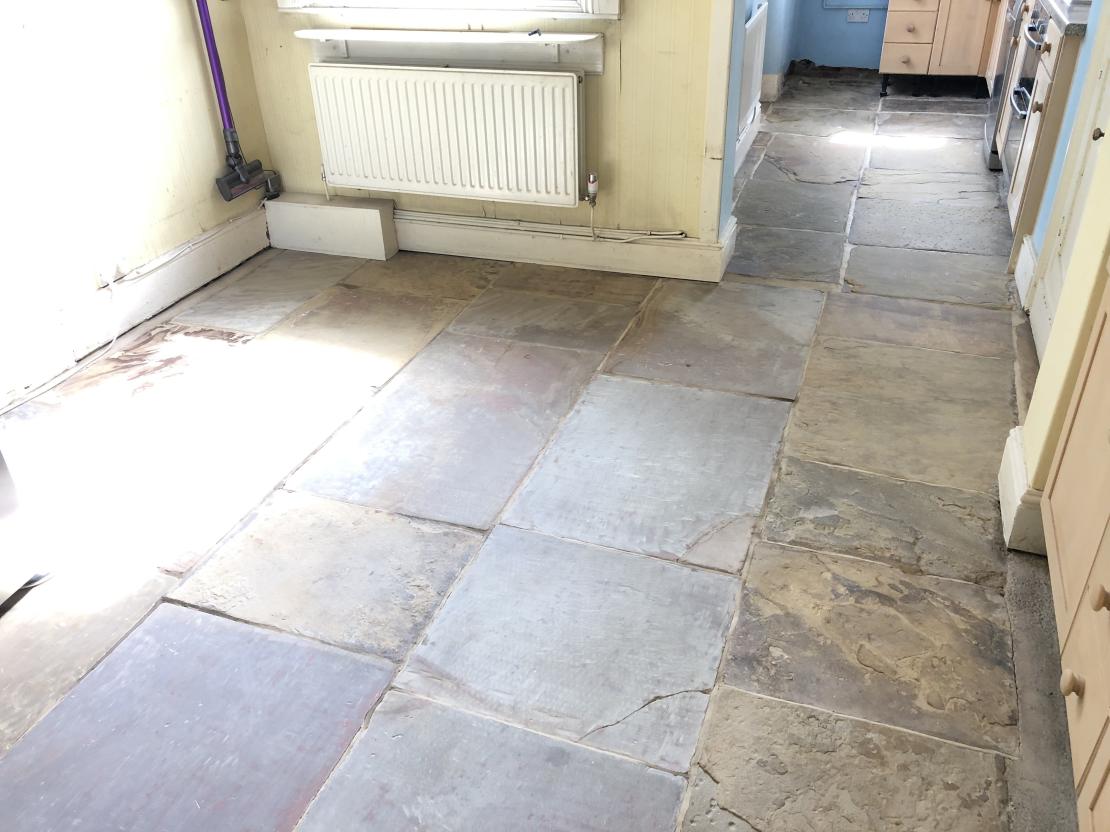 We never recommend using any kind of topical sealers on any of natural stone surfaces. Moisture escape from subfloor is not allowed through such sealers. Flaking of yorkstone floor is also a good indicator when topicals (incorrect) sealers were used. This is permanent damage and the only way to solve this issue is to remove old topical sealers and re-apply correct one instead. The stone flaking process should improve upon fresh layer of sandstone opening up through this natural process. Our professional grade sealers are breathable and allow moisture to escape in a form of gas.
Aftercare
After restoration - correct maintenance and not wearing outside shoes in your home is the key. This prevents external abrasives and contaminants entering your home. Such deposits build-up on the floor surface and damage sealer by scuffing and scratching the surface.
Don't underestimate the need for regular professional attention on a 12-month basis to keep the floor in the best shape possible. Correct maintenance products for your yorkstone floors would be left after the project is complete. But you may feel that in 12 months time the floor can do with a freshen up clean and sealer top up. By doing so it would never look like it looked before our professional stone floor restoration.
Get in touch
See our natural stone floor restoration page for more information and to get in touch use our contact page or phone our office on 01477 459 109.