Professional Viscose (Artificial Silk) Rug Cleaning Culcheth
Published on Saturday 16 February 2019
Just returned this gorgeous viscose rug after professional off-site deep clean (viscose is also known as art silk or artificial silk) it is man-made material of cellulosic fibre and it does not like moisture on daily use. Rugs of such nature should be kept in low traffic environments for longer preservation.
This particular rug had a dog sick stain that the owner tried to remove, causing a lot of pile hardening, distortion in the area and also stain that spread out.
We have managed to restore this rug to a great condition, although could not guarantee this at the beginning, due to the nature of the rug & it's dislike to moisture & supermarket stain removers. Such stain removers should not be used on items you value as you run the risk of completely damaging your quality and most likely very expensive item.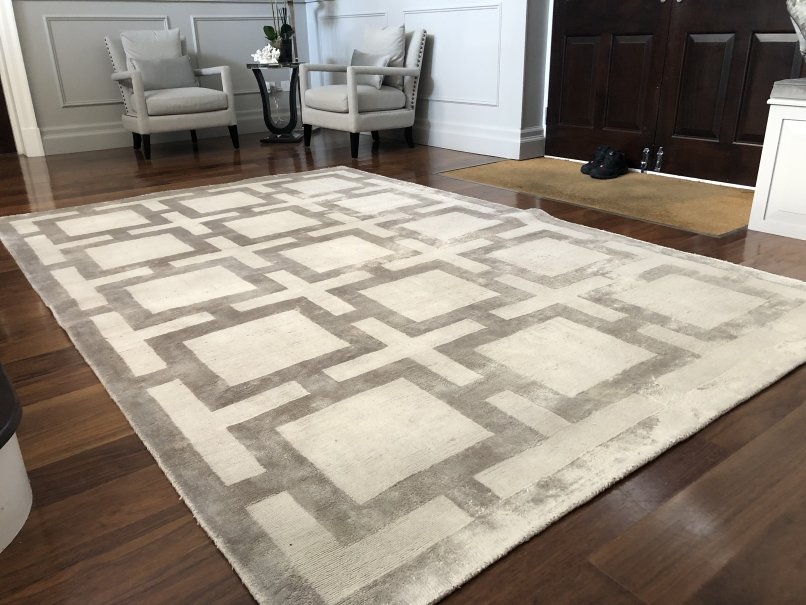 Should you require us to inspect and professionally clean your valued rugs in a purpose built and equipped facility - give us a call on 01477459109 for a free insured collection and delivery by ourselves.
Rugs should never be cleaned inside your home due to many reasons like possible damage to the flooring under the rug caused by moisture, also only superficial cleaning can be done on site, no dry soil removal, damage to the rug by colour bleeds, browning, wicking - the reasons are endless!